Frequently Asked Questions
Q How much should I purchase to enjoy Free Delivery?
A
Hong Kong area: For orders below HK$300, delivery fee of HK$30 shall apply.
Macau area: For orders below HK$500, delivery fee of HK$60 shall apply.
Q Is it possible to be sent oversea?
A TONYMOLY HK only ship to Hong Kong and Macau. Please refer to this when placing order.
Q Can I get the same promotion price from online& offline?
A
Online& Offline Shops usually work on different promotion。 Each platform has exclusive offer. You can check it from subsribing Facebook official page: https://www.facebook.com/TONYMOLYHK/

Q I have already registered at offline shop. Do I need to register in online also?
Q I want to revise my personal information including address, mobile number.
A
Please log in and go to My Page - Edit My Information. The information revised is only applied before submiting any online order.
If your online membership information is different from offline one, please visit the nearest shop or contact cs@tonymoly.com.hk for further assistance.
Customer cannot revise any shipment information after order confirmation. Please check carefully before completing payment.
Q Can I know the expiry date on products?
A
We keep tracking & uploading the updates of expiry dates on products at every product pages. Please check it carefully before you purchase.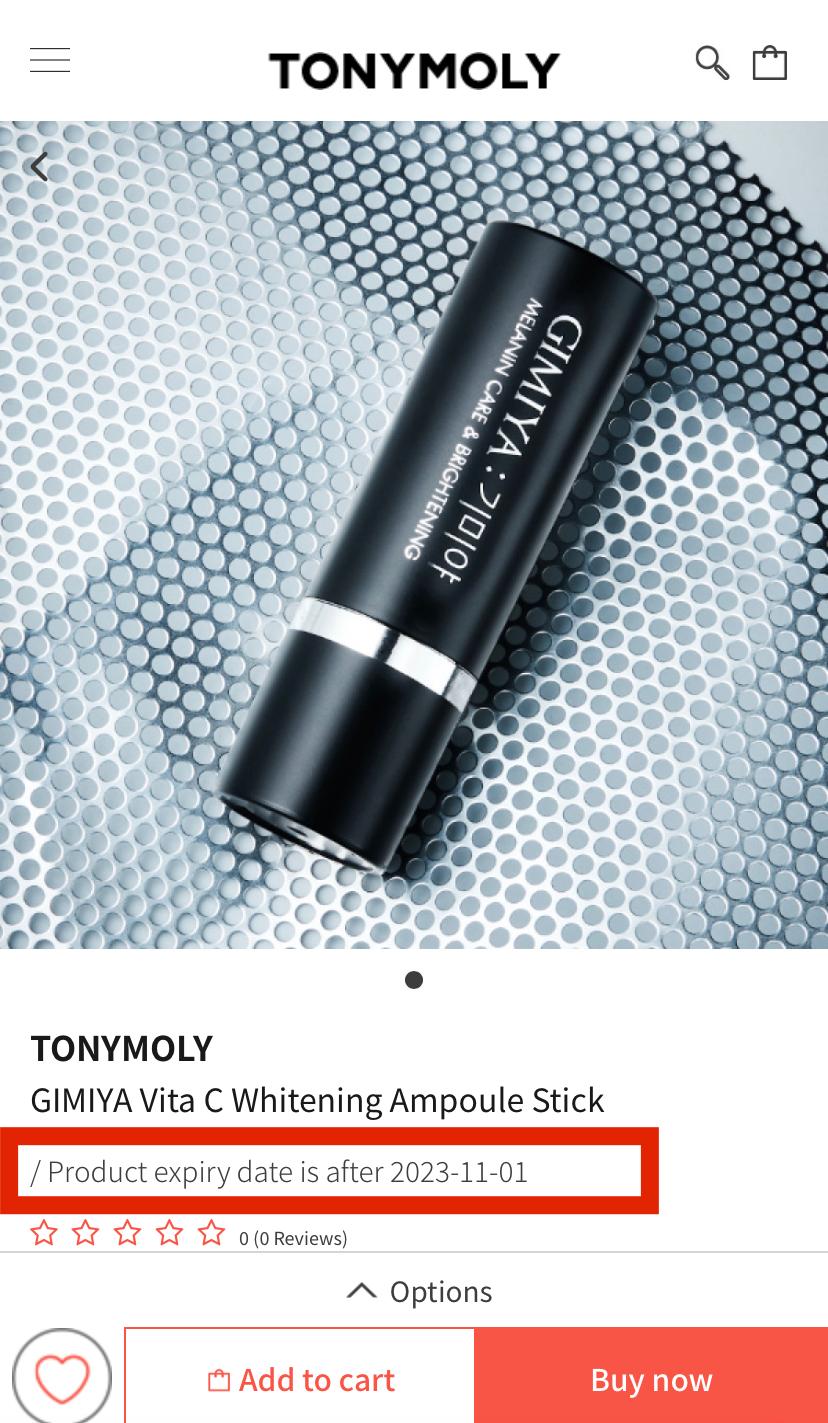 Q I'm pregnant. Can I use certain product?
A All TONYMOLY products received safety certification from Korean MFDS (Ministry of Food and Drug Safety). Still if you are pregnant or have health issue, please have consultation with your doctor for its usage before using the product.
Q Item in shopping cart is disappeared.
A If item you put in your shopping cart become out of stock, you cannot purchase it even you have it in your shopping cart. Please keep checking as it would be re-stocked in afterwards
Q How to redeem e-coupon?
Q I ordered but received email saying the item is out of stock.
A Sincerely sorry for the inconvenience caused. Due to unexpectedly large number of order, there would be error for stock managing system, therefore inevitably we might need to cancel your order. Our CS team may contact you to know whether you would like to exchange to another product or get partially refund. After that we will follw up quickly. Please understand refund might take up to 30 business days according to card company procedures.
Q The page keeps on loading after I choose VISA/mastercard as the payment method.
A
Please try reload the page first or use another browser or devices again if the page keeps loading.
You might switch to do the payment through PayPal without any login account if you would like to pay by credit card.
In the first page of PayPal, Please click "Pay with a Card" to input your credit /debit card information.
Q If I purchase as guest member, how I can track my order?
A After the order is shipped out, you would receive its notification with tracking code. If you could not receive any notification after 7 business days from the order date, please contact us via cs@tonymoly.com.hk
Q I forgot to enter the coupon code for the offer, Can I request back after order confirmation?
A All orders once are submitted & finished the payment, re-enter the coupon/code is not allowed. Please check carefully before check-out & purchase.
Q Can I request return / exchange or refund?
A
All orders once are confirmed & finished the payment, Customers cannot request for any return/ exchange or refund. If product has any quality issue, please contact cs@tonymoly.com.hk within 30 days from delivery. CS Team will follow up ASAP.
Q I don't want to receive SMS.
A Please contact us via cs@tonymoly.com.hk with yout phone number, we will take an action for your inquiry.